I've spoken a fair bit about buying books because I love their covers, so this week's Top Five is books I've bought because of their titles. Along with the cover, the title is often one of the first things we see of a book, and a grabbing title can make the difference between picking a book up or moving on to the next one.
5.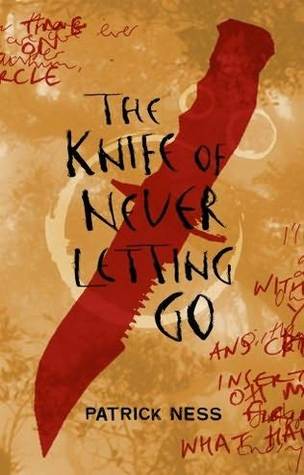 The Knife of Never Letting Go
(Patrick Ness)
This immediately makes me ask 'Why can't you let go of the knife?' Although it turned out to be far from what I thought it would be (I was guessing it was some kind of magical, possessing knife and I was very wrong) but the story was amazing and lived up to it's interesting title.
Memoirs of a Dangerous Alien
(Maggie Prince)
This is a golden oldie and has always been a favourite of mine. Again, it didn't go how I expected it to (apparently I like that in my titles) but it was still a title that made me stop and think 'I want to read that' and add it to my wishlist.
3.
John Dies at the End
(David Wong)
This is moving away from my usual YA a little – I borrowed this one from my boyfriend – but as soon as I heard the title I knew I wanted to read it. Who gives away a major plot point and spoiler in their title? A genius, that's who (a little gushing, I know, but it's a very grabbing title).
Miss Peregrine's Home for Peculiar Children 
(Ransom Riggs)
I'll admit to being intrigued by the cover and the use of the strange photographs, but I just love the title for this book as well. It instantly says intrigue and makes me want to read it. I admit, the story didn't go how I expected it to, but I still loved it.
The Girl Who Circumnavigated Fairyland in a Ship of Her Own Making
(Catherynne M Valente)
I don't think anything can top that title.
This popped up on Amazon when I was buying something else and I added it to my basket immediately: it deserved that for being so epically titled. The others in the series are similarly named but this was the first that caught my eye. It also happens to be a very good book, so check it out 😉
I'd love to hear any other awesomely titled books that you'd recommend!