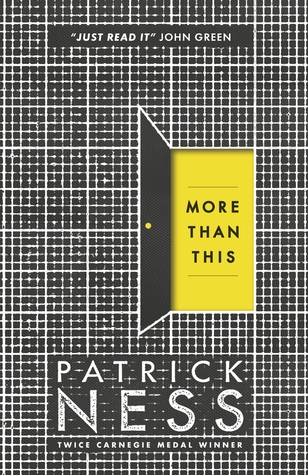 Publisher: Walker Books
Pages: 480
Release Date: September 10th 2013
Summary (From Goodreads):
A boy drowns, desperate and alone in his final moments. He dies.
Then he wakes, naked and bruised and thirsty, but alive.
How can this be? And what is this strange deserted place?
As he struggles to understand what is happening, the boy dares to hope. Might this not be the end? Might there be more to this life, or perhaps this afterlife?
Review:
I've been a big Patrick Ness fan since the
Chaos Walking
trilogy: I loved them as a teenager and still do today. I decided to read more of his work this year and started with
A Monster Calls
which just reminded me how brilliant he is.
I went into this book with both high expectations and a worry that it wouldn't live up to those expectations. I needn't have worried, Ness is a master story teller and I was sucked into this world almost as much as I was in The Knife of Never Letting Go.
The book has a mystery element to it that I really enjoyed: you're constantly wondering where he is, what's happened, what's the deal with Owen, what's real and what's not? And, the thing that I found most interesting (and weirdly satisfying) is that not all of them are answered. This may annoy some people and the ending might not feel satisfying, but I felt that it would have been spoiled if everything was wrapped up and explained nicely. I enjoyed the open-ended-ness.
The theory I enjoyed most was that Seth had made everything up: some things happened that seemed too convenient to him, and he begins to suspect that he's actually controlling events around him, as though he's in a story. It made me question coincidences in other stories and think about patterns of events that seem to convenient. But, even when he think he's in control, nothing goes to plan. There are so many surprises and twists – in true Patrick Ness style – that makes it almost hard to keep up.
The emotional storyline is tense and honest and oh so painful. I really felt for the way Seth had grown up with the secret of his choice weighing heavily on him, while his parents could barely look at him. Whether that was from their own pain or underlying anger at him, it doesn't matter, it's still terrible to grow up with that burden.
Seth really grows throughout the book, and, aided by Tomasz and Regine, the friends he makes (who he may or may not have made up) he becomes less self-centred. My one problem with him was the way/reason he died. Compared to Tomasz and Regine, his reasons seem poor. I understand there's different kinds of pain and that he felt lost, but it angered me that he gave up for something that I didn't see as a good enough reason. Either that's me being harsh, or I just didn't connect well enough with relationships…
Ness once again proves that YA novels are about substance and can be as thought provoking and important as any adult novel. He creates characters that are so real you can feel their pain, and he delivers a story that will make you question everything long after you've finished reading. I can't wait to read more from him.

Ahaha I love this book, you should totally read it!