*I have been given a copy of this book in exchange for an honest review*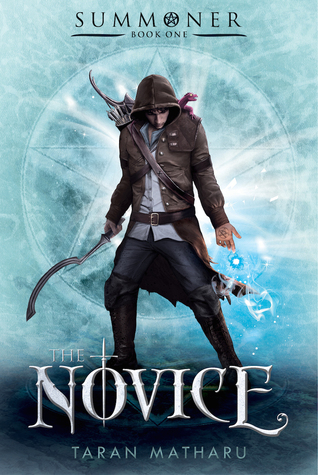 Publisher: Hodder Children's Books
Pages: 400
Release Date: May 5th 2015
Summary (From Goodreads):
When blacksmith apprentice Fletcher discovers that he has the ability to summon demons from another world, he travels to Adept Military Academy. There the gifted are trained in the art of summoning. Fletcher is put through grueling training as a battlemage to fight in the Hominum Empire's war against orcs. He must tread carefully while training alongside children of powerful nobles. The power hungry, those seeking alliances, and the fear of betrayal surround him. Fletcher finds himself caught in the middle of powerful forces, with only his demon Ignatius for help.
As the pieces on the board maneuver for supremacy, Fletcher must decide where his loyalties lie. The fate of an empire is in his hands. The Novice is the first in a trilogy about Fletcher, his demon Ignatius, and the war against the Orcs.
Review:
I've heard this book described as a cross between Harry Potter and Pokemon, so loving both of these, I was sold straight away.
It was easy to get into and the scene was set very well. The first few chapters, set in protagonist Fletcher's home of Pelt were actually some of my favourite bits. There was a really gentle introduction to the world and characters that completely involved me in the world from the start.
For me though, it started going downhill a bit when Fletcher went to the academy. All the subtly of the first few chapters was suddenly gone and I felt bombarded by information. I understood why: there were a lot of thing that needed explaining to both Fletcher and the reader, and a school setting is a great place for that, but it just didn't come across very naturally.
I loved the demons, especially Ignatius, who quite often reminded me of Toothless from How to Train Your Dragon (so completely adorable, basically!) However when it came to explaining classes of demons it all felt a bit technical, like learning the rules to a complicated board game. There were many parts where I felt like I'd like to play this story out as a computer game rather than read it as a novel.
Fletcher as a character was likeable enough but I sometimes found him a bit too good. I liked that he wasn't the cleverest of the most gifted, but when it came to things like morals (like treating dwarves and elves the same as humans) he annoyed me as he felt a little holier than thou. The other characters felt a little cliché, and the nobles vs. commoners things felt very predictable and a little too OTT to read comfortably.
Overall, this was an enjoyable enough read but the characters felt too predictable and flat for me to really make a connection with them. There's an interesting storyline though and I would like to see where it goes next.
I enjoyed – give it a read