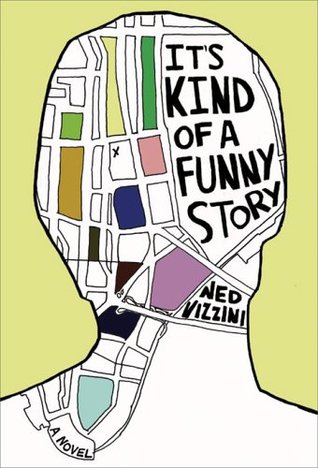 Publisher: Disney-Hyperion
Pages: 444
Release Date: May 1st 2006
Summary (From Goodreads):
Ambitious New York City teenager Craig Gilner is determined to succeed at life – which means getting into the right high school to get into the right job. But once Craig aces his way into Manhattan's Executive Pre-Professional High School, the pressure becomes unbearable. He stops eating and sleeping until, one night, he nearly kills himself.
Craig's suicidal episode gets him checked into a mental hospital, where his new neighbors include a transsexual sex addict, a girl who has scarred her own face with scissors, and the self-elected President Armelio. There, Craig is finally able to confront the sources of his anxiety.
Ned Vizzini, who himself spent time in a psychiatric hospital, has created a remarkably moving tale about the sometimes unexpected road to happiness.
Review:
I made the mistake of Googling this book before I read it and found out the author committed suicide not long after the book was published and it made it all the more sad and poignant to read.
I struggled to get into this at first because of the dialogue, but I put this down to the fact that I have never been an American teenage boy. And after the first few pages of boy talk, when Craig is on his own, I found myself connecting better.
Craig's illness is really relatable and it really shows that depression isn't something abnormal or not understandable: it's an illness with symptoms like anything else, and more people need to realise this. It's also easy to see how life puts on these unnecessary pressures as well. My younger sister is 14 and cries every day about her GCSE exams, because she thinks if she doesn't do well she won't go to uni and she won't get a good job and that's her life over. It's similar to Craig's fears and I find it heartbreaking that she's worrying about that at that age.
I thought the book started a little slow: I was expecting the majority of the book to be set in the hospital, but it took a while to get there, and I didn't understand the significance of some parts (it came to me later though). I enjoyed Craig's point of view as a narrator but didn't find it easy to connect with him sometimes: his obsession with getting some girl action was a little annoying, especially considering his mental health position and where it got him.
I thought the characters were all very fleshed out and colourful, especially the ones inside the hospital – although this sometimes worked against them, as I felt they could be a little over the top some time.
The ending gave me conflicting feelings. I thought it did suggest a little that with a positive attitude and a new girlfriend you could make your depression better, which isn't really something I believe. But I liked the fact that Craig wasn't 'cured' as such, just getting into a better place.
Once this book got going, I really enjoyed it, but all the way through I couldn't stop thinking about how sad it is that Ned Vizzini lost his own battle with depression. I hope his light hearted but poignant book has helped others with their own battles.
Ahaha I love this book, you should totally read it!