*I have been given a copy of this book in exchange for an honest review*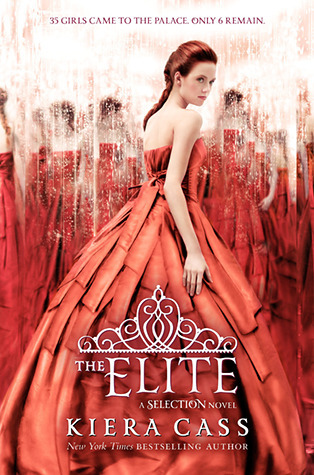 Publisher: HarperTeen
Pages: 336
Release Date: April 23rd 2013
Summary (From Goodreads):
The Selection began with thirty-five girls.
Now with the group narrowed down to the six Elite, the competition to win Prince Maxon's heart is fiercer than ever—and America is still struggling to decide where her heart truly lies. Is it with Maxon, who could make her life a fairy tale? Or with her first love, Aspen?
America is desperate for more time. But the rest of the Elite know exactly what they want—and America's chance to choose is about to slip away.
Review:
Having enjoyed
The Selection
(the first book in the series) I went straight on to this book without taking a break in between, so they kind of blended into one book for me. However, there was a marked difference in
The Elite
for me and that was that….
SO MUCH MORE HAPPENED!
This is why my review of The Selection was a little muted. I had really enjoyed it, but after going straight into The Elite, I couldn't help but think not a lot happened in the first book, comparatively. While the focus was still very much on the love story, I felt in this book there was more to keep me interested.
The main thing that I loved was Marlee's storyline. I won't spoil it here, but it seemed to come out of nowhere and really shocked me. It was the kind of thing I'd expected more of in the first book: the brutal reality of life in the palace, where harsh decisions have to made and punishments need to be dished out. This was by far my favourite part of the book.
America's indecision and constant swinging between Maxon and Aspen did get on my nerves a little, but that's mostly because I don't see the appeal of Aspen very much. I just don't see the connection there, and when America is with him she can be a bit simpering and annoying, whereas she seems much more herself (and likeable) with Maxon.
While I still feel I know very much where the story is going, there were a lot more plot twists and surprises in this book, and it's really made me want to read on (I'm awaiting approval from Netgalley for The One, fingers crossed!)
If you enjoyed The Selection then I think you'll definitely enjoy this book, and if The Selection left you wanting more then I think you might just find it here.
Ahaha I love this book, you should totally read it!