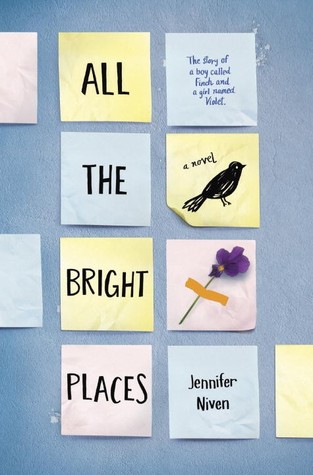 Publisher: Penguin
Pages: 388
Release Date: January 8th 2015
Summary (From Goodreads):
Theodore Finch is fascinated by death, and he constantly thinks of ways he might kill himself. But each time, something good, no matter how small, stops him.
Violet Markey lives for the future, counting the days until graduation, when she can escape her Indiana town and her aching grief in the wake of her sister's recent death.
When Finch and Violet meet on the ledge of the bell tower at school, it's unclear who saves whom. And when they pair up on a project to discover the 'natural wonders' of their state, both Finch and Violet make more important discoveries: It's only with Violet that Finch can be himself – a weird, funny, live-out-loud guy who's not such a freak after all. And it's only with Finch that Violet can forget to count away the days and start living them. But as Violet's world grows, Finch's begins to shrink.
Review:
This is another of those heart breaking books á la
The Fault in Our Stars
and
The Last Leaves Falling
where the subject matter is tragic but a beautiful love story comes out of it.
What I loved about this book more than anything were the characters. They really just sang to me, and I felt really connected to both Finch and Violet equally. While I tend to lean towards female charcters (being female myself) there was something about Finch that was just infectious.
This book deals with a lot of heavy issues and is not for the faint hearted. Violet's survivors guilt after her sister's death was a real driving force in the story and it was uplifting to see her slowly come to terms with it and learn to start coping, however painfully it might be, without her sister.
Finch, on the other hand, goes the opposite way, and gradually gets worse throughout the book. Even though I kind of knew where it was going, it didn't make it any less painful. I wanted to shout at him to get help and sort things out, but it's not always easy for people to do that (and definitely not easy for Finch). I loved his quirkiness and the fact that it was all weirdly rational, rather than just being another quirky YA hero who's there to save the female from herself.
That said, I wasn't sure about that aspect of their relationship sometimes. I loved the way it grew and how it seemed so natural for them to become friends (at Finch's insistance) and then slowly more. But I don't like the idea that it just took a good man to help Violet find herself again and start living after her sister's death. I'm simplifying a bit there but there seems to be a bit of a trend towards that these days and it irritates me.
When all is said and done though, I thoroughly enjoyed this book. When it came to the climax and I found myself speeding up reading because I was desperate to know what happened, and when it hit me what did I was left with such complicated emotions, I dwelled on them all day. It's always so good to see mental health issues discussed in an honest way in books for young adults, and this is one of the better ones.
OMG GEE WHIZZ How have you not read this yet?!
Check out my soundtrack for All the Bright Places here
If you enjoyed this, you might like It's Kind of a Funny Story by Ned Vizzini