Soundtrack Saturday is a weekly meme created and run by Erin at The Hardcover Lover. This is my second attempt, as I really enjoyed my last one. Last week I chose to make a soundtrack for Only Ever Yours by Louise O'Neill
This week I decided to do one for All the Bright Places by Jennifer Niven. It's my first five star review in a while and there were a few times when reading it that I felt my music really lined up to it. I may have been a little heavy with the water imagery though…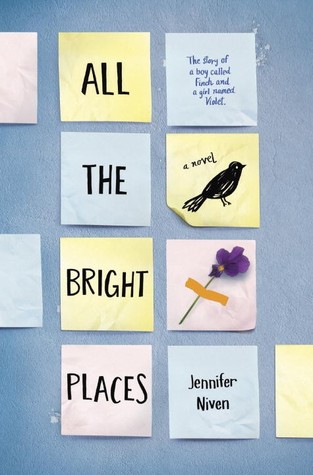 So Long – Jenny Owen Youngs
(the Beginning Song)
Hoping against a hope,
It's rail thin.
All that you know from now:
You'd be waitin'.
So long.
So long.

So you walk the path through the sea of sleepers
And keep your eyes ahead.
Cos you know that light is finders keepers,
But what you found instead

Is no one was made for this,
To be lonely.
Keep it against your chest,
This is only
So long.
Everything Reminds Me of You – Emmy the Great
(Song to Eleanor)
Everything reminds me of you,
Somewhere out roaming tonight,
You fought the bottle, and I
Came out behind.
Now everything reminds me of you,
Tonight,
Oh but the fire,
Will carry less higher,
In time.
Young in America – Danielle Bradbury
(Travelling Song)
Ready set go, gotta get out of this small town
The open road, air to breath, the sun is shining down
It's you and me in a land of the free, so baby let's run
While we're young in America
Young Love – Coby Grant
(Violet and Finch's Song)
In the start, in the dark I didn't know

What you felt like on the inside, but the outside view was quite nice

Then we spent days in bed and time went slow

We started out adventure as we ventured out together

Knowing only
That our love was growing
Shimmy Shimmy Quarter Turn – Hellogoodbye
(Finch – Staying Awake)
I'm serious as a heart attack
I'm looking in my almanac
I've gotta find out all the things
Find out where she got her wings
Shimmy shimmy quarter turn
I feel like I will never learn
How can I check lost and found
When I'm too busy getting down?
Nothing but the Water – Grace Potter and the Nocturnals
(Finch's Song)
I have fallen so many times
For the devil's sweet, cunning rhymes
And this old world
Has brought me pain
But there's hope
For me again

Well, won't you take me down to the levy, take me down to the stream, take my down to the water,
we're gonna wash our souls clean
Goodnight and Go – Imogen Heap
(Violet's Song to Finch)
Skipping beats, blushing cheeks I am struggling
Daydreaming, bed scenes in the corner café
And then I'm left in bits recovering tectonic tremblings
You get me every time

Why d'ya have to be so cute?
It's impossible to ignore you
Must you make me laugh so much
It's bad enough we get along so well
Say goodnight and go
Ain't Gonna Drown – Elle King
(the Ending Song)
Train's coming but I'm stuck on this road

Moon's rising and my blood is growing cold

Preacher man can't save a soul like mine

Miracles are just too damn hard to find

Ain't gonna drown in the water…