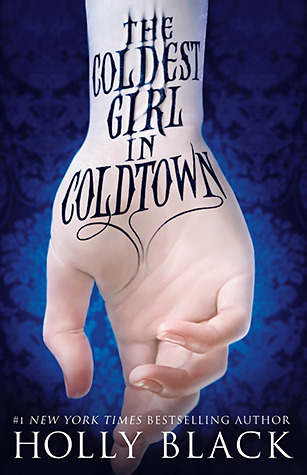 Details:
Publisher: Little, Brown Books for Young Readers
Pages: 419
Release Date: September 3rd 2013

Blurb:

Tana lives in a world where walled cities called Coldtowns exist. In them, quarantined monsters and humans mingle in a decadently bloody mix of predator and prey. The only problem is, once you pass through Coldtown's gates, you can never leave.
One morning, after a perfectly ordinary party, Tana wakes up surrounded by corpses. The only other survivors of this massacre are her exasperatingly endearing ex-boyfriend, infected and on the edge, and a mysterious boy burdened with a terrible secret. Shaken and determined, Tana enters a race against the clock to save the three of them the only way she knows how: by going straight to the wicked, opulent heart of Coldtown itself.
Review:



This is the second Holly Black I've read this year (also in my whole life…) I really loved
The Darkest Part of the Forest
but
while I enjoyed this one, it didn't quite hit the mark
as much. I've given it the same rating, although I'll admit if I did half stars it would probably be 3.5 (I feel half stars is the start of a slippery slope so I've been avoiding them).
I was drawn to it mostly because of the title. Even before that meant anything to me (the Cold stuff and Coldtowns are explained in the story) something about it just sparked my interest.
And then it turned out to be about vampires. I'm just not a fan of vampire stories (I think I was a bit too old to be caught up in the teenage Twilight phase) so when I realised that was what the book was about, I did do a bit of judging. But in its defense, it didn't really follow the typical vampire love story I was bracing myself for.
It was an interesting take on vampires: I loved seeing how the digital age affected them, as it's bound to do. The idea of live streams inside all the great vampire parties, and a huge blogging community dedicated to all things dark and vampire really captured me, and it's something I've not seen before.
Black creates brilliant characters that are all well-rounded and believable. I liked Tana, though some of her choices confused me, and Aidan's charm and games felt very familiar, but I was wary of Gavriel at first. There were a few times when the things he said – poetic, odd things – felt like they were verging on the edge of brooding YA vampire, but it soon became clear he was just a bit mad. I did like his character and while there was some romance there, I was glad it wasn't all about him. I also loved that there were LGBTQ+ characters and references just dropped in there – being bisexual or transgender wasn't a big plot point, it was just who someone was, which I love.
I hated Midnight. Something about her character just captured everything I hate in people (she's obviously a greatly written character if she's produced such a reaction in me). Everything she said and did just infuriated me, but I know that kind of person would crop up if this situation really happened. It just definitely wouldn't be me!
One of the things that puts me off is the writing style. I just find it a bit odd when a chapter will suddenly jump back in time and give some background information for what's just happened or what's about to happen. This was the same for The Darkest Part of the Forest but, with the fairytale nature of that book, I felt it fitted in. With Coldtown it felt a bit odd, and I wished this background stuff could just been incorporated into the main storyline rather than taking you out of it.
This isn't the typical vampire love story I thought it would be, and I like the fact that vampires aren't glamourised too much – they're real monsters to Tana and she fights so hard to keep herself becoming one. I'd give it a read if you're looking for a different take on a vampire-occupied world.
My Verdict:
Ahaha I love this book, you should totally read it!
If you enjoyed this you might like Crow Moon by Anna McKerrow