Soundtrack Saturday is a weekly meme created and run by Erin at The Hardcover Lover. I've been really enjoying making these so am trying to make it a regular thing on my blog.
Last week I chose to make a soundtrack for Seed by Lisa Heathfield.
This week I decided to do one for The Sin Eater's Daughter by Melinda Salisbury. This was released earlier this year and I fell in love as soon as I saw the cover. Then I read it and fell in love with it all over again.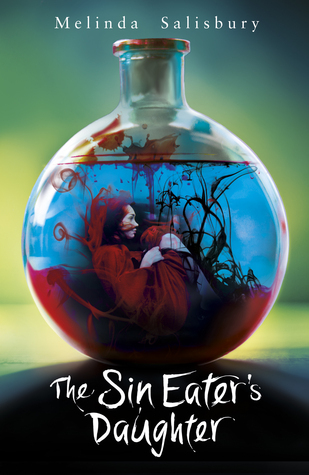 Poison and Wine – The Civil Wars
You only know what I want you to
I know everything you don't want me to
Your mouth is posion
Your mouth is wine
You think your dreams are the same as mine
Separate – Meg and Dia


There are times when I'm feeling like I've lost all control
And I'm talking 'bout a year or more
And I remember when I was a kid and it was simple
I couldn't ask for me
And I was heading down the straight and narrow
When the Devil pulled me in by my elbow
He gently removed my blindfold
I said, "Don't show me more."
Paper Forest – Emmy the Great


You're not unlucky, you're just not very smart
These things will never leave you, they're as close as you can get
To a blueprint for the future – but you can call it fate
It's like these days I have to write down almost every thought I've held,
So scared I am becoming of forgetting how it felt
And these fears they will unravel me one day
But still I am afraid
The Good in Me is Dead – Martyn Joseph


I woke shaking and thinking
About love that's in the world
And if there's a bigger picture
How it's all obscene, absurd
So pass me that revolver
Pass me a book I read
Pass me a fresh cut flower, sir
Ask me what I dread
That the good in me is dead
Night Still Comes – Neko Case


There are so many tools that are made for my hands
But the tide smashes all my best laid plans to sand
And there's always someone to say it's easy for me
But I revenge myself all over myself
There's nothing you can say to me
Catch Me – Demi Lovato


Before I fall too fast
Kiss me quick but make it last
So I can see how badly this will hurt me when you say goodbye
Keep it sweet
Keep it slow
Let the future pass and don't let go
But tonight I could fall too soon under this beautiful moonlight
The Poison – The All American Rejects


I can be pensive
You can be so sure
You'll be the poison
You'll be the cure
I'm alone on the journey
I'm alive none the less
And when you do your very worst
It feels the best