Soundtrack Saturday is a weekly meme created and run by Erin at The Hardcover Lover.
Last week I chose to make a soundtrack for Emmy & Oliver by Robin Benway.
This week I decided to do one for 
The Accident Season
by Moira Fowley-Doyle. This was a really magical book with such vivid descriptions and I just loved it. There were some moments when I was reading and listening to music and the songs just lined up perfectly, so I knew it would be my next soundtrack.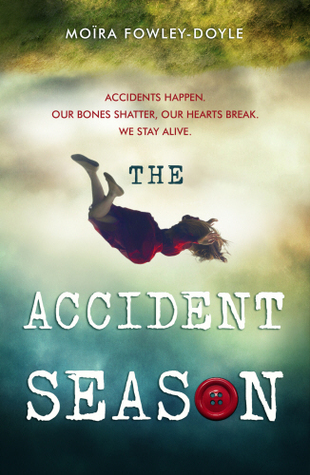 Shake It Out – Florence + The Machine
Regrets collect like old friends
Hard to relive your darkest moments
I can see no way, I can see no way
And all of the ghouls come out to play
And every demon wants his pound of flesh
But I like to keep some things to myself
I like to keep my issues drawn
It's always darkest before the dawn
24 – Emmy the Great


They say one man is the accident
The other is the hand that stops the blood
And I am looking for the other one
For a hand to stop the blood.
Wait It Out – Imogen Heap


Where do we go from here?
How do we carry on?
I can't get beyond the questions
Clambering for the scraps
In the shatter of us collapsed
It cuts me with every could-have-been
Pain on pain on play repeating
With the backup makeshift life in waiting
Under the Influence – Elle King


Just another morning
With shaky hands, pounding head
Guess I did it again
Try to leave but I can't stand
Start to think that I'm better off dead
I'm sick if this condition
Your kiss is my addiction
I can tell you cast a spell that knows no moderation
It's dangerous, the things we do…
Wake Me Up When September Ends – Green Day


(It would have been so perfect if it was October!)


Here comes the rain again
Falling from the stars
Drenched in my pain again
Becoming who we are
As my memory rest
But never forgets what I lost
Wake me up when September ends.
Falling – The Civil Wars


Haven't you seen me sleep walking?
'Cause I've been holding your hand
Haven't you noticed me drifting?
Oh, let me tell you, I am
Tell me it's nothing
Try to convince me
That I'm not drowning
Oh, let me tell you, I am.
Blood I Bled – The Staves


Calm the quickening feet that fall
Hide behind you
Calm the gathering rain
Suffering as I suffer
Will be tied in the river
You when you speak of pain
If I was, if I am, if I did, if I have.