Soundtrack Saturday is a weekly meme created and run by Erin at The Hardcover Lover.
Last week I chose to make a soundtrack for The Fairyland Series by Catherynne M Valente.
This week I decided to do one for
Emmy & Oliver
by Robin Benway. This was a lovely little book and I had so many songs pop into my head when I was reading it, I just knew I needed to make a soundtrack for it.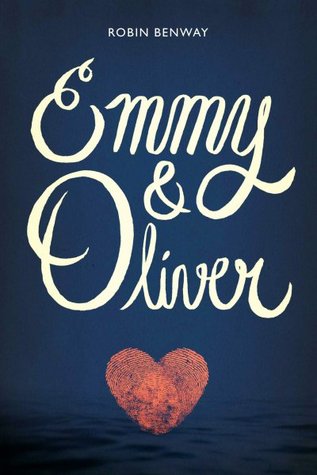 See You Again – Carrie Underwood
Said goodbye, turned around
And you were gone, gone, gone
Faded into the setting sun
Slipped away
Over You – Miranda Lambert


You went away
How dare you?
I miss you
They say I'll be okay
But I'm not going to ever get over you
Come Back, Be Here – Taylor Swift


And this is when the feeling sinks in
I don't wanna miss you like this
Come back, be here
Come back, be here
I guess you're in New York today
I don't wanna need you this way
Come back, be here
Come back, be here
I Thought I Lost You – Miley Cyrus ft. John Travolta


Nobody listens to me,
Don't hear a single thing I've said
Say anything to soothe me
Anything to get you from my head
Don't know how I really feel
The faith it takes to make like I don't care
Don't know how much it hurts
To turn around like you were never there


Two Pieces – Demi Lovato


There's a boy, lost his way, looking for someone to play
There's a girl in the window, tears rolling down her face
We're only lost children, trying to find a friend
Trying to find our way back home
All About You – Birdy


You don't have to do this on your own
Like there's no one that cares about you
You don't have to act like you're alone
Like the walls are closing in around you
You don't have to pretend no one knows
Like there's no one that understands you
I'm not just some face you used to know
I know all about you
You Found Me – Kelly Clarkson


You found me
When no one else was looking
How did you know just where I would be?
You broke through all of my confusion
The ups and the downs
And you still didn't leave
I guess that you saw what nobody could see
You found me
Nothing Like the First Time – Lady Antebellum


Ain't nothing like the first time
Nothin' like the first smile
Looking at you seeing forever
Keeps me going to the last mile
And I held on like crazy
Until our goodbye baby
And I still miss you lately
Ain't nothing like the first time